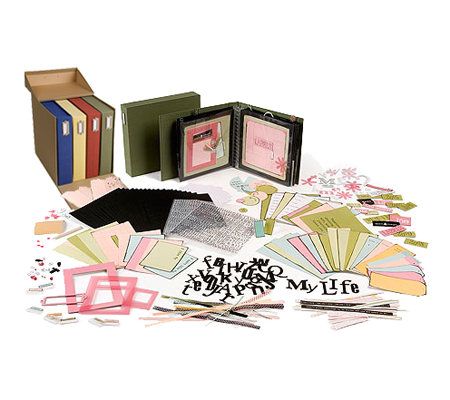 I just love scrapbooking. Really! (I know I'm dorky)
But, every now and then even the most-loved hobbies kind of become tedious and uninteresting. I'm kind of scrapbooked-out at the moment (well, I have been on quite a tear lately ... ever since I attended the Creating Keepsakes Convention in Valley Forge in late July I've gone crazy with it). So, it was with great delight I received the second shipment of an album kit series I'm getting from QVC.
I finished the first one awhile ago, "All About Me." It was actually kind of hard doing a scrapbook all about me, myself. Not for the least reason that I have very few pictures of myself, let alone scrapbook-worthy ones. And, it was difficult at first to talk about myself and express my own hopes and dreams, etc.
This second edition has gone much faster. I've been really looking forward to this one. It's "All About You." The you in this case being Joe, of course. I've had a good time singing his praises, recalling old memories and digging through pictures of him. (and I don't have that many good pictures of him, either, oddly ... I guess my photography is generally focused on the kids ... mental note to remedy that in the future)
I'm very happy right now. I really love working on a project and seeing steady progress on it. And I know he's going to be surprised and pleased with the finished product (although he's usually quite blase' about my creations).
--Heidi
ps. In other news, I gathered a bunch of stuff for my new job starting Monday. I'm trying to start small so I can get a feel for the kids and my (extremely limited) space at the school. I'm really hoping this goes well. I'm ready to go back to work and really contribute more (financially) to the family.